'Herpes' Dating Sites*
Along with Herpes Passions (the site you are on now), the sites listed below all focus on connecting HSV+ singles with other singles who understand and accept this issue. The sites listed below range from those focused on 'Herpes Dating' to others focused on Herpes singles chat. The primary goal though is to connect HSV+ people with other singles online. Each site, regardless of the company running it, shares many of the same characteristics as many of the other sites. So, if you are looking for a great dating site focused on dating while having HSV1 or HSV2 (or both), then there are a LOT available. Look below to find the one that seems like the best fit for you.
NOTE:
NO online dating site is 100% safe. Whenever joining any site where sensitive information is shared, do so as if the information listed will inevitably be made public. To safeguard privacy issues: 1) choose a unique username on every site you join 2) use a unique email address that is ONLY used on sites where sensitive information is shared (so that if that email is hacked, there is no connection to you that can be identified or associated with any other site you visit) 3) do not use a photo that is already online and can be found using any online reverse image tool (or instead, use a cartoon Avatar to represent yourself until you have built up trust with someone...and then only share non-sensitive unique images that are not already online). Basically, especially on this site and every other online dating site, be extremely cautious with the information provided because no site is 'hack-proof'. The largest sites/companies, including social networks, banks, hospitals, electrical grids, oil transport companies and even areas within the government have been hacked, so always behave as if the site you join might end up being hacked. That being said, having herpes really should not have the negative stigma it does, because SO MANY people have it. Cold sore? Herpes. Shingles? Herpes. Since it can be transmitted by a kiss, even when no symptoms are showing (or possibly even known), it is very easily spread. It is treatable and, for the most part, should just be an annoyance (although sometimes a painful one). But, society has decided to stick its collective head in the sand and pretend herpes isn't a casually spread and non-relevant virus. Instead, it still has a stigma associated with it that is ridiculous considering how many people have it. So, until there is a cure, or until society wakes up, if you are at all concerned about your HSV+ status being known, please take the precautions outlined above. It really is somewhat silly because EVERY dating site is absolutely filled with HSV+ people, but on this site people are brave enough to acknowledge it. That being said, again, if you are at all concerned about this type of information being made public, then do not join the site you are on now, or any site below, because again, no site is 'hack proof'.
AD

MPWH
- Meeting People With Herpes
"The #1 & Original Herpes Dating Community for HSV Singles"
"MPWH is the Best HSV & STD Dating Community for Positive Singles who are living with Genital Herpes & Oral Herpes. Do you have Herpes and find it hard to date others? Now, everything changes, try out MPWH and find Herpes Singles in our Private Community of 100% like-minded people – all of whom are living with Herpes."

HSV Singles
Start searching 1000's of HSV Singles in your area today!
Do you have HSV? Are you single? Don't be alone anymore. HSV Singles is a dating site for men and women with herpes. It's only a virus, it isn't the end of the world or the end of your chances for romance, love & marriage.

Herpes Matchmaking
"Let New People Into Your Life with Herpes Matchmaking!"
"Just because you have herpes does not mean you should completely forget about your love life! There are plenty of people in the world that are dealing with the same issue like you are and they are in need of some affection just like you!" Join today.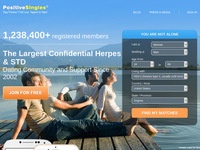 Positive Singles
STD Dating Site With Over 2 Million Members
While Positive Singles is not solely for Herpes Positive singles, it is for anyone and everyone dealing with virtually any STD, including HSV. You can feel comfortable on a site that where STD's are acknowledged as 'just part of life'. No stigma. No judgement.

HSV Link
Meet Singles Living and Loving with HSV
Make the most of life when you're a member of HSV Link! Don't let something as inconsequential as a common virus stop you from pursuing and finding love. Join HSV Link and meet others dealing with the same issue who understand.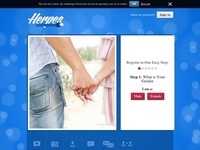 Herpes Chatroom
Don't Freak Out! Herpes Is WAY More Common Than People Acknowledge!
Join Herpes Chatroom to meet others who have herpes and are comfortable with the fact that it is part of their life now. If you are concerned about how herpes will affect your romantic future, this is the place to find others who know the answer to that question.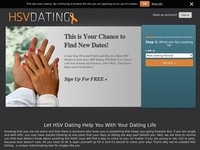 HSV Dating
"Let HSV Dating Help You With Your Dating Life"
" At HSV Dating you can find new friends, new partners, or maybe just someone for a talk. Make your personal profile and start connecting with people who are caring and understand what you're going through!"
AD

Private Herpes Dating
Meet Local Singles with HSV!
"Herpes is Common in 1 in 4 People. We Make it Easy to Find Love by Bringing HSV Positive People Together to Form Long-lasting Relationships. Stop Hiding from Reality and Start Living a Life Filled with Love and Happiness."

HSV Singles Chat
"Open Your Heart And Mind At HSV Singles Chat"
Having herpes simplex is not a big deal. More people have it than care to admit to it though, and despite it be VERY prevalent throughout society, it still has a negative stigma attached to it. People are such hypocrites though. A cold sore is herpes. Get over it! If you aren't interested in having 'the talk' with someone about having HSV-1 or HSV-2 (or both), then register here, where it is a non-issue.

Herpes Dating Group
"Find Dates with HSV Singles at Herpes Dating Group!"
Join Herpes Dating Group And See For Yourself How Easy it is to Meet HSV Singles. While you might never have thought that joining a 'Herpes Group' would be something in your future, it actually makes perfect sense once you are aware you have been exposed. HSV is not a big deal. Don't make it one. Join and meet people who understand.

Herpes Chat City
Chat With Others Who Have Herpes
"It's no secret that there are a lot of people who have herpes. It's not easy to find them though because having it is not something people brag about. But now you've come to a place where it's easy to find them--Herpes Chat City! You're among friends here, people who know what you're dealing with so you can feel free to share your thoughts and issues with them. There's no shame in having herpes and they all know that; isn't it time you did too?"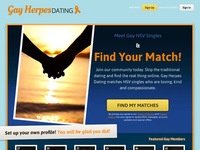 Gay Herpes Dating
Newsflash! PREP Doesn't Stop Herpes!
A lot of gay men have been so thrilled to have a way to prevent HIV infection through the use of PREP (Truvada), that the use of condoms has dropped significantly. Guess what happens when you don't use condoms? Your risk of sexually transmitted diseases increases. So, there are a good number of gay singles now dealing with herpes. The good news is that herpes isn't a big deal. If you are looking for a gay dating site where herpes isn't a 'dealbreaker', then this is the site for you.
AD
*Sites listed on this page are a combination of ads, affiliate related Sites and general non-partnership related sites that match the theme of Herpes Passions.